Lifetime Warranty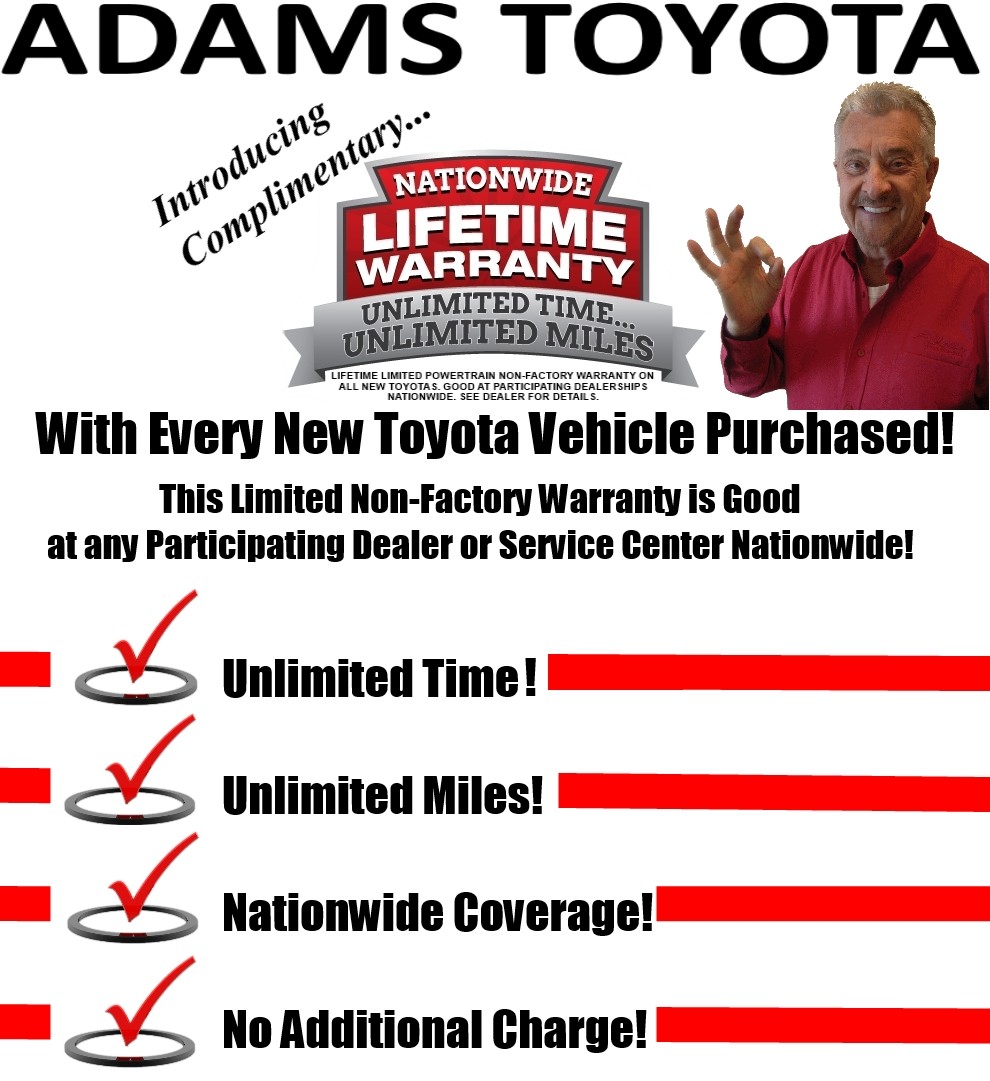 What's covered under the Adams Toyota Lifetime Warranty?
The components covered are the same as the manufacturer's powertrain warranty plus any additional coverage that is listed on the Lifetime Warranty Certificate provided when you buy your new Toyota from us.
How long is the Adams Toyota Lifetime Warranty really good for?
The Lifetime Warranty is valid for as long as you own and you drive the vehicle - for an unlimited time, unlimited miles. For the useful life of the car.
How much will it cost?
Nothing. Adams Toyota Lifetime Warranty comes standard with every new eligible Toyota vehicle we sell, at no additional charge to you.
Is there any extra maintenance required to maintain the warranty?
No extra maintenance is required. You must simply follow the manufacturer's recommended maintenance as referred to in the owners guide.
Do I have to have all my service completed at your dealership?
No. Our Service Department will certainly exceed your expectations but you are not required to service here. To maintain the Warranty, you must perform the recommended schedule maintenance and keep your records.
Where am I covered by the Adams Toyota Lifetime Warranty?
The Lifetime Warranty is good at any pre-approved licensed repair shop in the United States.
Is the Adams Toyota Lifetime Warranty transferable if I sell the vehicle?
No. The Lifetime Warranty stays with the original owner as long as they own and drive the vehicle.
What's the catch?
None. No fees no gimmicks. It's just another added value to purchase your vehicles from Adams Toyota.
Details of Coverage
Limited Warranty coverage applies for Breakdowns to the Covered Parts listed below and related labor, provided they are not covered by any other insurance or the manufacturer's warranty. Taxes and fluids needed for authorized repairs are also included. Only those parts stated under "What Is Covered" are covered by this Limited Warranty.
Engine – All internally lubricated parts; engine block; cylinder head(s); harmonic balancer; intake and exhaust manifolds; mounts; oil pan; factory installed supercharger or turbo-charger; timing belt/chain and tensioner; timing chain cover; valve cover(s); water pump. • Transmission – All internally lubricated parts within the transmission; cooler and cooler lines (metal); mounts; throttle valve cable; torque converter; flywheel/flex plate; transmission and transfer case housing; oil pan; vacuum modulator; external and internal control units. • Drive System – All internally lubricated parts within the drive/transaxle assembly, including axles and axle bearings; constant velocity joints and boots; drive axle housings; differential cover; hub bearings; front hub locking assemblies; drive shaft and drive support; universal joints.
Will not cover comercial use.